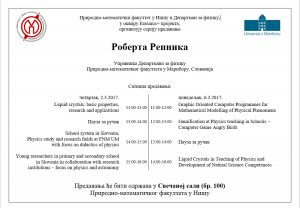 Природно-математички факултет у Нишу и Департман за физику, у оквиру Erasmus+ пројекта, организују серију предавања проф. др Роберта Репника, Управника Департмана за физику Природно-математичког факултета у Марибору, Словенија.
Сатница предавања:
четвртак, 2.3.2017.
11:00-13:00 – Liquid crystals: basic properties, research and applications
13:00-14:00 – Пауза за ручак
14:00-15:00 – Physics study and research fields at FNM UM with focus on didactics of physics
15:00-16:00 – Young researchers in primary and secondary school in Slovenia in collaboration with research institutions – focus on physics and astronomy
понедељак, 6.3.2017.
11:00-12:00 – Graphic Oriented Computer Programmes for Mathematical Modelling of Physical Phenomena
12:00-13:00 – Gamification at Physics teaching in Schools – Computer Game Angry Birds School system in Slovenia,
13:00-14:00 – Пауза за ручак
14:00-16:00 – Liquid Crystals in Teaching of Physics and Development of Natural Science Competences
Предавања ће бити одржана у Свечаној сали (бр. 100) Природно-математичког факултета у Нишу